Our environment
The Group takes its responsibility towards the environment very seriously and has introduced many initiatives focused on reducing waste, improving energy efficiency and reducing its overall carbon footprint.
Go Green
Our partnership with Go Green, launched in 2020, has been fully rolled out in FY21 and enabled us to be more efficient with the classification and segregation of our waste. We have recycling facilities in every retail location, workshop and office. The following initiatives were undertaken during FY21:
4,528 tyre casings collected from branches and recycled;
3.9% of waste to landfill;
59% vehicles banded Euro 6;
82% of parts disposed recycled; and
All three main third party valet service providers are using bio-degradable products.
Energy efficiency actions
We are committed to responsible energy management and will practice energy efficiency throughout our organisation, wherever it's cost effective. We recognise that climate change is one of the most serious environmental challenges currently threatening the global community and we understand we have a role to play in reducing greenhouse gas emissions.
Birmingham Clean Air Zone Initiative
Birmingham City Council partnered with us to offer people working in the Clean Air Zone the chance to scrap their old car and receive £2,000 credit towards a compliant vehicle, or a mobility credit. We are proud to have been given the opportunity to support the Clean Air Zone's Scrappage and Mobility Scheme and through it help play our part in reducing the level of nitrogen dioxide emissions in Birmingham.
Streamlined Energy and Carbon Reporting ('SECR')
We measure and report on carbon emissions in compliance with SECR, covering energy use and associated greenhouse gas emissions relating to gas, electricity and transport, intensity ratios and information relating to energy efficiency actions. In accordance with the Companies Act 2006 (Strategic Report and Directors' Report) Regulation 2013, the table below sets out Motorpoint's emissions in 2021, compared with 2020.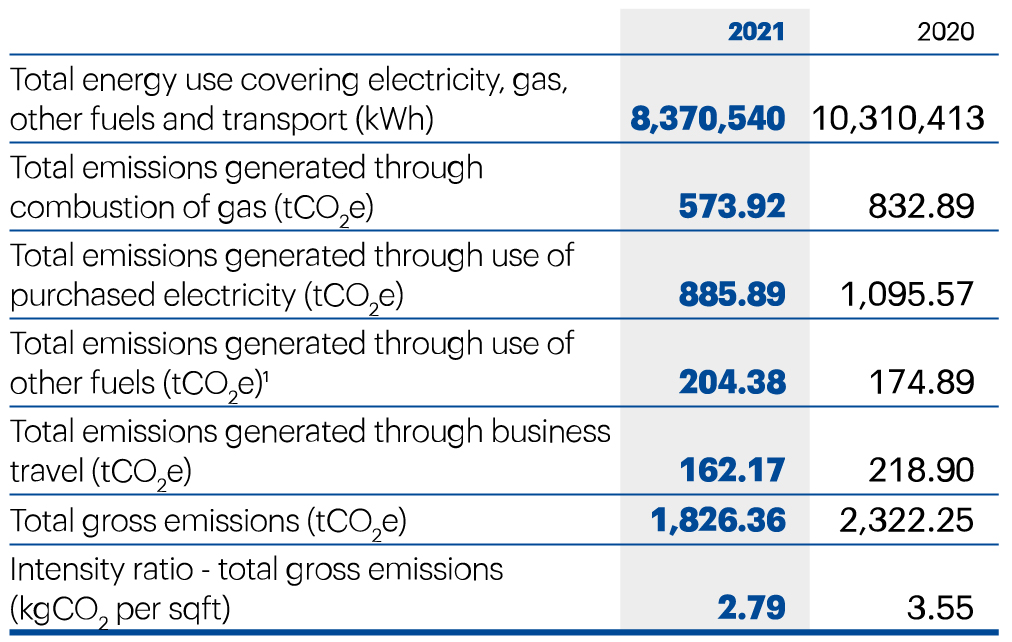 See more of our Responsibility programmes and initiatives in action in our latest Annual Report
View here